About the Book
Unemployed mill worker Zoe Hart jumps at the opportunity to emigrate to British Columbia in 1863 to find a better life and be reunited with her brother, who fled from home after being accused of a crime.
Pastor to miners in the mountains, Abe Merivale discovers an abandoned baby during a routine visit to Victoria and joins efforts with Zoe, one of the newly arrived bride-ship women, to care for the infant. While there, he's devastated by the news from his fiancee in England that she's marrying another man.
With mounting pressure to find the baby a home, Zoe accepts a proposal from a miner of questionable character after he promises to help her locate her brother. Intent on protecting Zoe and frustrated by his failed engagement, Abe offers his own hand as groom. After a hasty wedding, they soon realize their marriage of convenience is not so convenient after all.
My Thoughts
Jody Hedlund has been on my favorite authors list since the very first time I read one of her books almost 8 years ago! And I have faithfully read everything she has written ever since. The first two books in this Bride Ships series being among some of my favorites for sure so I was more than a little excited to read this book especially when I realized it would contain my all-time favorite trope, marriage of convenience! But, this one didn't quite live up to my expectations.
We met Pastor Abe in the previous books and I was looking forward to seeing him get his happily ever after. He seemed like such a great guy and after watching him help his friend win over his girl I was excited for him to find someone too. He was a very selfless and giving person, always going out of his way to care for everyone around him and I admired that. There were just times that I wanted him to have more of a backbone and actually stand up for something rather than kowtowing all the time.
Zoe Hart (always love seeing any part of my name in books) was a bit of an enigma, sometimes being brazen and bold but then turning around and acting shy. They way she was willing to care for children left in dire straits was certainly commendable even if sometimes it felt illogical.
Zoe and Abe had an interesting relationship, there was a lot of confusion and moments of hot then cold and so much could have been cleared up with an honest conversation that never happened. They were well suited though and their way to their own happy ending.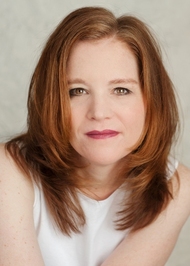 Meet the Author
Jody Hedlund is the bestselling author of over 20 historical novels for both adults and teens and is the winner of numerous awards including the Christy Award, Carol Award, and Christian Book Award. She lives in central Michigan with her husband, five busy teens, and five spoiled cats. Visit her at www.jodyhedlund.com.
I received a complimentary copy of this book from the publisher. I was not required to write a positive review. All opinions expressed are my own.