About the Book
In this standalone holiday novella, return to the charming Cornish village readers fell in love with in The Secrets of Paper and Ink.
Women's counselor Joy Beckman has always been a friend and helper to all. That's why she's given up everything to be with her parents as her mother suffers through Alzheimer's. Joy may not have a thriving career or a love life at the moment, but she's doing what she does best—taking care of others. And even though it's difficult, she knows it's where she is supposed to be.
But life throws a curveball when she has to leave her parents temporarily to travel to Cornwall, England, for the Christmas-time wedding of her best friend. While there, Joy helps Sophia tackle her last-minute to-do list, and in the process, finally meets a man who turns her head—and her heart. The only problem? He lives in snowy London, and her life is with her parents back in sunny Florida.
She tries to resist Oliver Lincoln's charms, but it's harder than it should be. With her heart torn in two, Joy is forced to choose between a life she knows she's meant for and the one she didn't see coming.
My Thoughts
This novella was absolutely charming and sweet and everything I wanted it to be! I loved travelling back to the enchanting town of Port Willis. It captured my heart in The Secrets of Paper and Ink and I was delighted to have the chance to visit again. I was also really happy that Joy got her story! Both she and Oliver were really great characters and while their romance was a bit of a whirlwind it was the absolute sweetest. Their spark was there from the very first time they met and just grew from there. Sometimes these quick novella romances come across inauthentic but that wasn't the case here, I honestly felt their connection and absolutely loved them together. It was also really fun to catch up with Sophia and William, and Ginny and Stephen, so great to see how their lives were turning out. Basically my only complaint about this story was that it was too short and I wanted more!
Meet the Author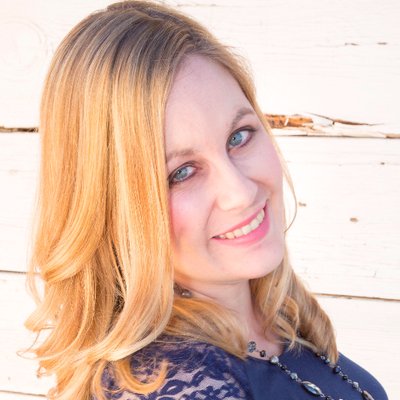 Lindsay Harrel is a lifelong book nerd with a B.A. in journalism and M.A. in English. She lives in Arizona with her young family and two golden retrievers in serious need of training. Lindsay has held a variety of jobs, including curriculum editor for two universities, medical and business writer, and copywriter for a digital marketing agency. Now she juggles stay-at-home mommyhood with working freelance jobs, teaching college English courses online, and—of course—writing novels.
When she actually has time to do other things, she loves to sing, read, and sip passion iced teas from Starbucks. She loves to watch God work in ordinary lives to create something extraordinary, and she writes to bring hope to those who may have lost it along the way. Connect with her at
www.LindsayHarrel.com
and any other place she hangs out online, including Facebook and Twitter.
I received a complimentary copy of this book from the publisher. I was not required to write a positive review. All opinions expressed are my own.