About the Book
A tornado has destroyed a small Minnesota community and among the missing are not only a group of students but PEAK Rescue team leader Chet King. Ty Remington will stop at nothing to rescue his mentor, not even when the girl he loved--and lost--walks back into his life. But Brette needs his help more than he knows, despite her stubborn determination to push him away. And when he gets a second chance, loving her just might cost him more than he can imagine.
A blogger for Vortex Storm Chasers, Brette Arnold didn't expect her adventures to land her in the same place as Ty, the guy who she walked--no, ran--from over a year ago. She had her reasons--good ones. The kind that tell her that falling for him again would only lead to heartache. But Ty isn't the kind of man to give up--not on the missing students, or on her.
Life and love hang in the balance in Susan May Warren's breathless story of holding on to hope during a deadly summer of storms.
My Thoughts
Susan May Warren's name was on the cover, so of course I absolutely loved this book! This series has been amazing and each new installment just adds another layer of amazingness! I love how the stories are all woven together, getting parts of the other couple's stories a long with the main storyline.
The beginning of Ty and Brette's story that we got in
A Matter of Trust
made me very excited to see how everything was going to play out. Especially since their romance seemed to end as quickly as it had begun when Brette disappeared. But neither could forget the other no matter how hard they tried and when circumstances throw them back together the sparks definitely started flying again.
Ty was such an amazing hero, the kind of guy that was determined to save anyone and everyone and refused to give up, even when everybody else was ready to. He'd gone through a lot in his life, from watching his mother die, to almost losing his mentor in the accident that he considered his fault. And even though he couldn't bring himself to fly again he never stopped showing up. I loved his passion for God and the way he knew what to stay when those close to him were hurting.
Brette was broken. Determined to deal with everything on her own, she faced one of the worst battles out there and won, but the scars ran deep. My heart broke for her and I was cheering for Ty as he gently showed her that she didn't have to face things alone, that he and God were ready and waiting to love and help her.
Brette and Ty were just so perfect together and I absolutely loved seeing them find their way back to each other.
The storm aspects of the story were fascinating and I was on the edge of my seat as the team raced to find and save the people missing after the tornado. I barely put this book down and had it finished in about three and half hours! Every single second of this book was brilliantly written and after the way it ended I desperately need
Wait for Me
ASAP!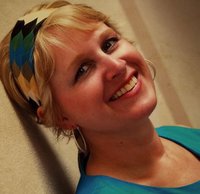 Meet the Author
Susan May Warren is the USA Today bestselling author of over fifty novels with more than 1 million books sold, including Wild Montana Skies, Rescue Me, A Matter of Trust, and Troubled Waters. Winner of a RITA Award and multiple Christy and Carol Awards, as well as the HOLT and numerous Readers' Choice Awards, Susan has written contemporary and historical romances, romantic suspense, thrillers, romantic comedy, and novellas. She makes her home in Minnesota and can be found online at www.susanmaywarren.com, on Facebook at Susan May Warren Fiction, and on Twitter @susanmaywarren.
I received a complimentary copy of this book from the publisher. I was not required to write a positive review. All opinions expressed are my own.