About the Book
Seven years ago, orphaned and alone, Em finally arrived at a new home in Iowa after riding the orphan train. But secrets from her past haunt her, and her new life in the Western wilderness is a rough one. When her guardian is shot and killed, Em, now nineteen, finally has the chance to search for her long-lost sister, but she won't be able to do it alone.
For Azure Springs Sheriff Caleb Reynolds, securing justice for the waifish and injured Em is just part of his job. He's determined to solve every case put before him in order to impress his parents and make a name for himself. Caleb expects to succeed. What he doesn't expect is the hold this strange young woman will have on his heart.
Debut author Rachel Fordham invites historical romance readers to the charming town of Azure Springs, Iowa, where the people care deeply for one another and, sometimes, even fall in love.
My Thoughts
When I first heard about this debut on another blog I was intrigued and instantly added it to my TBR. I was excited when I had the opportunity to receive a copy for review and shortly after it arrived in my mailbox, I dove in.
I'll start by saying that I absolutely did enjoy this book and read through it rather quickly. That being said at the very outset I had a little trouble getting into the story and connecting with Em. I think a lot of that stemed from the fact that the heroine had spent the last seven years-the most formative years of a girl's life-away from civilization. So while she was technically an adult a lot of things about her still felt childish and I think it took my brain awhile to make it all click.
I did really like Em, even though she'd had a rather hard life she still kept a kind heart and was a balm to many around her. She was a hard worker and didn't back down from a challenge. Caleb was a great hero as well, always determined to right wrongs in the world and do whatever needed doing. Both of them had some emotional baggage to work through and I loved seeing them come out on the other side of it.
Caleb and Em's relationship developed slowly starting as sheriff and victim, moving to friends, and eventually realizing they wanted more than friendship.
The ending of this book, for me, was the best written part and I was really able to connect more the charcters and feel their emotions.
A random thing that amused me was how many names in this story were names of people in my life including my own, the hero and heroine had the same names as two of my siblings, and there were a couple names of children I watch.
Overall this was a well-written enjoyable read and while there were some things that maybe felt a little off for me it wasn't anything extreme that completely turned me off. I look forward to seeing what else this author has for us.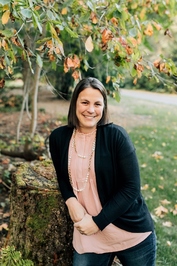 Meet the Author
Rachel Fordham started writing when her children began begging her for stories at night. She'd pull a book from the shelf, but they'd insist she make one up. Finally she put her love of good stories with her love of writing and she hasn't stopped since. She lives with her husband and children on an island in the state of Washington.
I received a complimentary copy of this book from the publisher. I was not required to write a positive review. All opinions expressed are my own.