About the Book
For three years, Penny Ercanbeck has been opening other people's mail. Dead ends are a reality for clerks at the Dead Letter Office. Still she dreams of something more--a bit of intrigue, a taste of romance, or at least a touch less loneliness. When a letter from a brokenhearted man to his one true love falls into her hands, Penny seizes this chance to do something heroic. It becomes her mission to place this lost letter into the hands of its intended recipient.
Thomas left his former life with no intention of ending up in Azure Springs, Iowa. He certainly didn't expect a happy ending after what he had done. All he wanted to do was run and never look back. In a moment of desperation, he began to write, never really expecting a reply.
When Penny's undertaking leads her to the intriguing man who touched her soul with his words, everything grows more complicated. She wants to find the rightful owner of the letter and yet she finds herself caring--perhaps too much--for the one who wrote it.
My Thoughts
I loved the premise of this story! I'd never heard of the dead letter office so I was instantly intrigued. I didn't quite connect with this author's debut release but I enjoyed it enough to give this one a try. There were still some areas of disconnect with this sophomore novel but overall it was still a good read!
The dead letter office was fascinating to me and all of the letters contained in this book were definitely my favorite part. The author definitely has a knack for writing a good letter! I enjoyed the way that Penny and Thomas interacted, their banter was amusing and I liked how they started as friends and then moved to more. It was also fun to come back to Azure Springs and see the community we got to know in the first book in action again.
So while there were some moments that were a little corny and may have caused an eye roll or two in the end this was a charming story that is great for when you're just looking for that lighthearted read!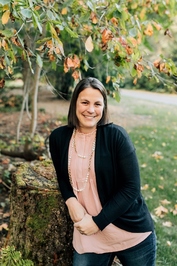 Meet the Author
Rachel Fordham is the author of The Hope of Azure Springs. She started writing when her children began begging her for stories at night. She'd pull a book from the shelf, but they'd insist she make one up. Finally, she paired her love of good stories with her love of writing and hasn't stopped since. She lives with her husband and children on an island in the state of Washington.
I received a complimentary copy of this book from the publisher. I was not required to write a positive review. All opinions expressed are my own.